Fairbanks Ranch Edible Garden
This 1 acre property has edibles tucked in every corner. It is the perfect example of growing vegetables and herbs in raised beds and in the traditional landscape as well. There is always something to harvest.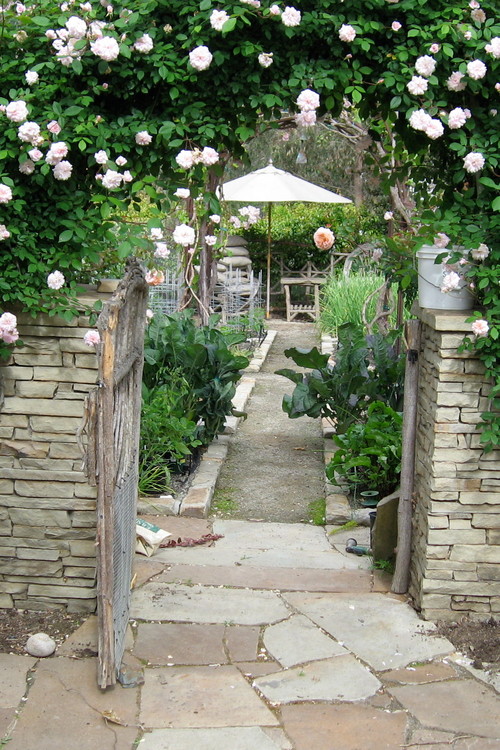 Stakes used for tomatoes and other heavy crops are attractively stored in a beautiful blue urn, which complements the Soleri tiles embedded in the potting bench. Bamboo hoops are holding back the sugar snap peas.
This circular bed has a tepee of beans that have just emerged from the ground. Soon it will be covered with delicious beans.
You can see through the rebar grape arbor to this custom potting bench which has Soleri tiles embedded into a concrete top. It is so useful in a green of this size.
This is a view looking down on the vegetable enclosure from the pool deck. It is newly planted with summer vegetables. The grape arbor is just starting to leaf out.
I designed this custom fence and gate. Glass orbs are inserted at the ends of the dowels. They glisten in the sunlight and add colorful interest to the enclosure. The Cecil Brunner roses are spectacular when in bloom.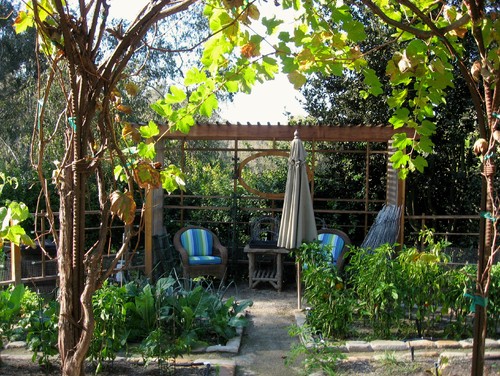 This view of the back of the enclosed vegetable garden entices visitors to enjoy the grape arbor.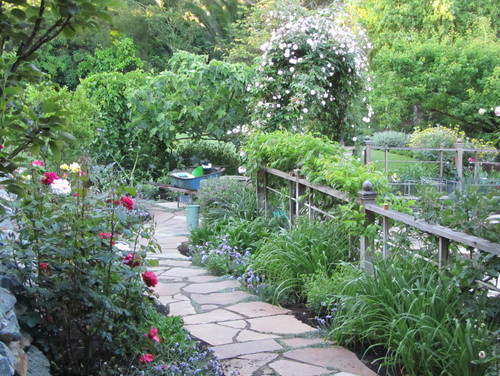 This walkway leads to the enclosed vegetable garden to the right and several beds of herbs interplanted in the landscape. There is a large fig tree next to a weeping mulberry.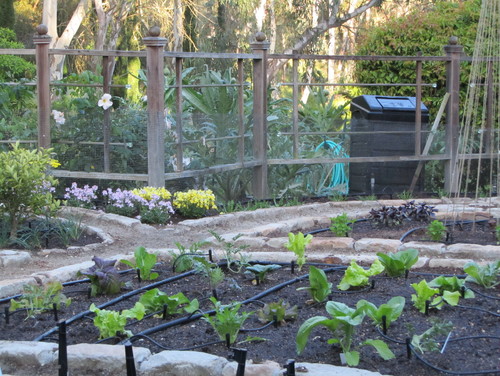 Just planted lettuces of varied colors. The deeper green or the red lettuces supply the most nutrition.
Lucy enjoying the gourd arbor.
This espaliered apricot tree underplanted with poppies adds beauty as well as delicious promise of the apricots to come.
enclosed vegetable garden 40′ x 40′ provides enough food for a large family apple tree in foreground and herbs in surrounding beds.
Garden pathway lined with fruit trees-almond, and many varieties of citrus which are underplanted with catmint.
The fig tree in foreground underplanted with blue borage. The flowers of blue borage are edible and taste mildly like sweet cucumber.
Large apricot tree is an abundant provider of juicy, sweet apricots not available in supermarkets.
Herbs interplanted with perennial flowers are beautiful and productive.
rosemary, oregano and french tarragon in foreground.
Herbs interplanted with perennial flowers are beautiful and productive. blue borage in foreground.

Herb border under a grapefruit treemany varieties of oregano, thyme, chives lavender.
The blackberry bushes are trained on a wire fence and provide quarts and quarts of succulent berries. Below them are asparagus and above are artichokes. This bed of artichokes yielded several bushels.
Herbs are interplanted with annuals and perennials.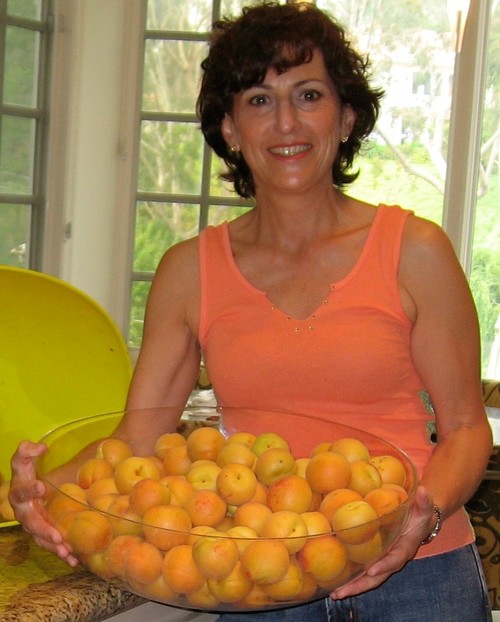 Here I am with one bowl of just harvested apricots. Yum, yum.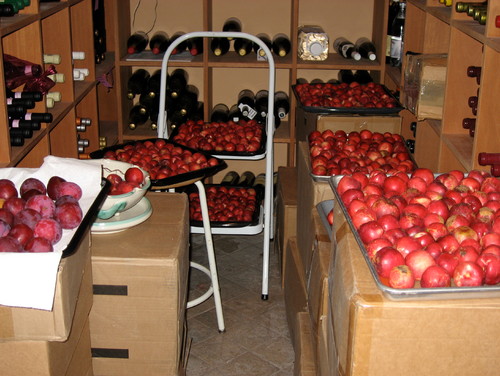 Just harvested Arctic Star nectarines, Santa Rosa plums and Maypride peaches. A great place to store a bumper crop is a wine closet. The temperature and humidity help prolong the shelf life of the fruit should you have too much for the refrigerator.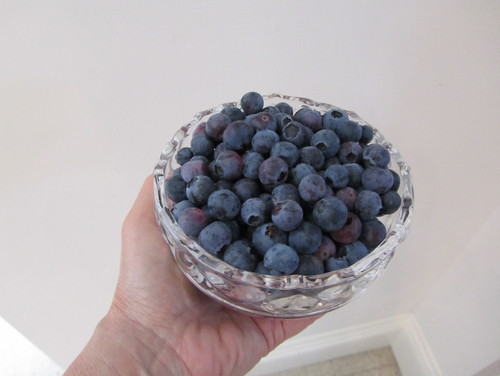 Just harvested blueberries.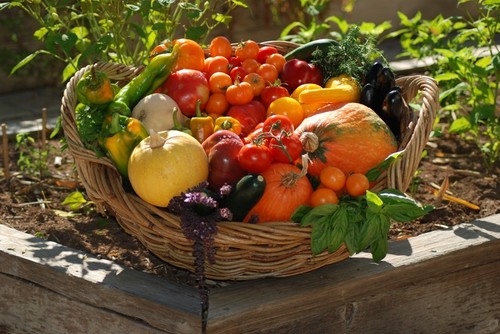 This basket is brimming with just harvested vegetables and nutrition. It looks to good to eat.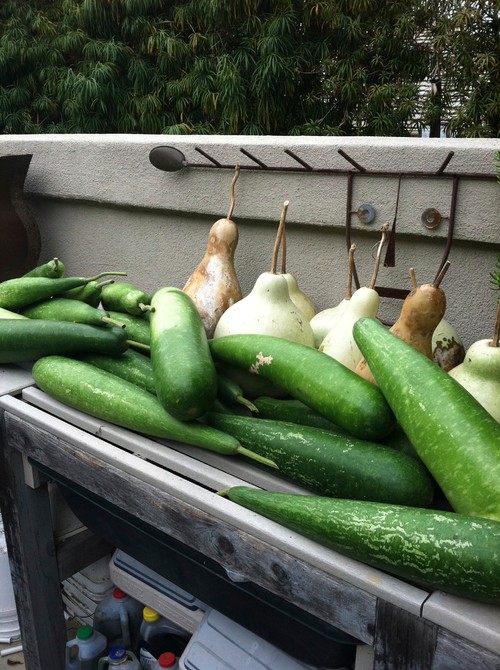 These gourds were harvested from the gourd arbor. They were then dried and turned into bird houses. Lots of fun.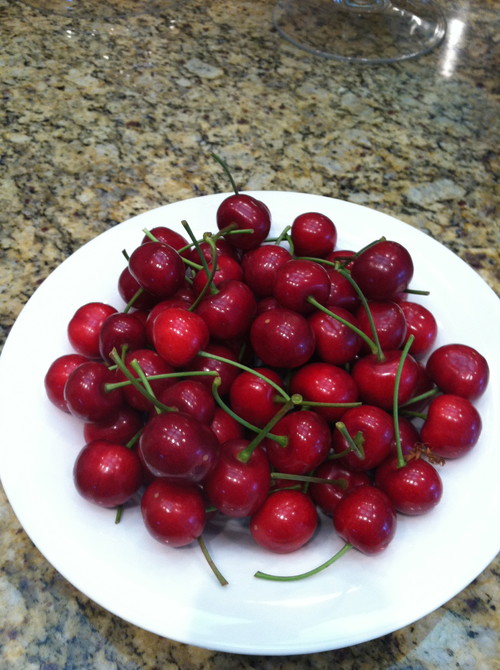 Life is a bowl of cherries. Cherries are easily grown in San Diego with the new varieties recently introduced. They taste as good as they look.
Edible borders can be beautiful. This beautiful lady welcomes you to harvest what is growing at her feet.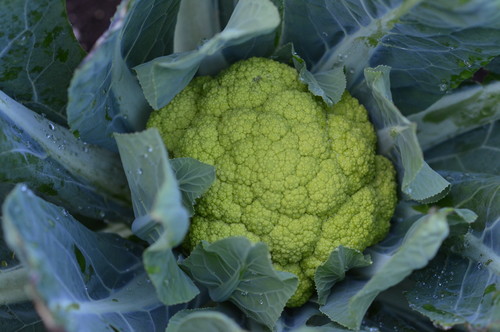 "Panther" Cauliflower
Serve this lie green variety with the traditional white cauliflower and the newer "cheddar" cauliflower and purple cauliflower for a dazzling array of healthy veggies.
"Anna" Apples were first developed in Israel in the 1950's. A great low-chill variety. Plant with "Golden Dorsett" for a better fruit set. They ripen in this are in june-July and are picked while still pretty green for the most crunch.
This espaliered 'Gold Kist' Apricot shows abundant fruit production. This is an early ripening variety in San Diego county. The flavor of a fresh picked ripe apricot is unequaled by any store bought fruit.
Blackberries ripening on the vine just about Memorial Day every year. The fruits are as large as the first knuckle of my thumb. They are so juicy and delicious.
These 'Golden Dorsett' apples are planted near the 'Anna' apples int his garden. They cross polinate and produce better yields. Both are early ripening varieties with low chill requirements. Perfect for out Southern California climate.
This rosemary hedge attracts many beneficial insects to the garden. The bees will then pollinate the other fruits and vegetables which are growing nearby. The rich fragrance released when walking by remains in the air for quite some time.