Carlsbad Juicing Garden
My client is a busy executive who wants a healthy lifestyle but does not have much time for cooking. She does however love to have fresh juice everyday so we came up with the idea of a "Juicing Garden".
I have planted many vegetables, greens and herbs that will provide ample nutrients for a morning glass of juice.
These raised beds are right outside the patio which makes them so convenient to harvest.
This garden boasts 4 beautiful custom redwood raised beds with copper bands to prevent snails from attacking the edibles. The boxes are in full sun which is ideal for growing vegetables and herbs

My first week tending this garden I planted swiss chard and a new crop of kale.

Two weeks later these delicious greens have filled out and are ready to be harvested. I recommend removing just a few of the outer leaves as needed which keeps the plant producing for a long time.

I have planted some hot peppers and basil alongside some cilantro. The cilantro will not last long in our summer heat but we hope to gather as much as possible before it bolts.

I planted Marvel of Four Season lettuce seeds, which are heat tolerant, directly next to the soaker hose so they stay constantly moist. Seeds must never be allowed to dry out. I will divide these seedlings in the next few weeks.

Malabar Spinach is native to India and Africa and needs warm soils to do well. Its red stems and black berries are a beautiful addition to any vegetable garden. Harvest the young leaves and eat raw like spinach or sauté the larger leaves in EVOO and garlic. It can grow to 30 feet up a trellis.
Hot peppers have capsaicin which has many medicinal purposes and parsley with it's high vitamin content are great additions to juices.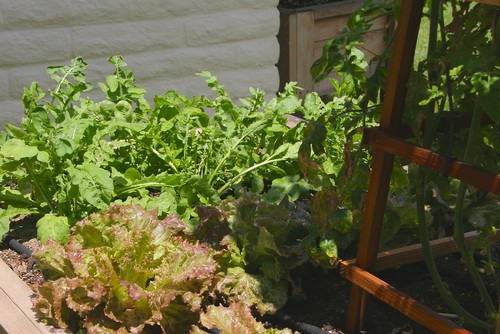 Green leafy vegetables like arugula which have a high content of vitamins A, C, E and K are great additions to your juice menu. It is good to mix it up and put different ingredients in your juices.

Plant a heat tolerant lettuce in the summer to keep you picking fresh salads every day. Pictured here is Magenta from Johnny's seeds. It is not only beautiful to look at but tasty too.

Bright Lights chard is a winner in every way. Colorful, nutritious, and keeps on giving the whole year long in our Southern California climate. It is one of the most antioxidant rich foods we can eat.

Kale, which is part of the brassica family is one of the healthiest foods you can eat. And harvesting it fresh from your garden right before you put it in your blender or sauté pan is the best way to take advantage of all the vitamin A, C and K plus trace minerals like copper, potassium, iron and more.

This Sweet 100 Tomato is so prolific I am having a hard time containing its enthusiasm with numerous support systems. Cherry tomatoes are packed with flavor and have more sugar content than larger size tomatoes. It is impossible not to pick one and eat it while I am working. 🙂